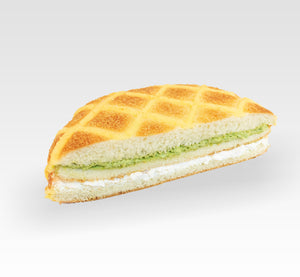 Our Angel Bun is one of our large breads. The layers are matcha cream and butter cream with an outer coating of peanut crunch and custard in diamond form. We use real matcha from Japan in all of our green tea products. 
A perfect pair with morning coffee or tea. 
Please keep refrigerated. Best consumed within 2 days.
♡ Ingredients
Flour, Egg, Milk, Butter, Palm oil and/or Vegetable oil, Matcha butter cream, Butter cream, Custard cream, Peanut butter, Corn flour, Almond Flour, Corn syrup, Baking powder, Baking soda, Sugar, Yeast, Salt